Having a mass of stickers on a car is common in the USA. People often use car stickers to say what they believe or what they love. However, this is a modern promotional tool to show your spiritual proclivity to others. As long as you surface it on your car, you let other people find their commonality with you.
Contrarily, We grow up with the changes. The party you loved last year is not on your favorite list this year. Or you simply don't like the sticker attached a month ago. Till now, it is okay. But it creates problems when you can't get the sticker off. Moreover, a simple and easy task consumes longer than usual time if you are a newborn to that hassle. Here we notify you of the process of "remove the sticker from the car window without damage".
Remove the sticker from the car window without damage
We care about your time. So why do we bring some simple if not more quick tricks to educate you on how to remove stickers from the car window without damage.
Using Razor and glass cleaner:
Well, this is pretty much handy for removing stickers from the car window. This shortly takes 5 minutes to remove the sticker from the car window without damage. All you need is a microfiber towel, a glass cleaner, and a sharp razor. To keep in mind, never dare to use a rusted blade. It will leave scratches on the glass.
First, spray the glass cleaner on the sticker and scrub it properly. So the surface around the sticker is clean and the razor can work out properly. Now operate the blade in a stop-and-go process. The sticker will be hard to remove because of the dense sticky gum.
Slowly and carefully go down the sticker. In the first attempt, it will leave some sticky residue. Don't take the stress. Spray on it further and work razor toward down. Last, spray and clean the surface.

How to remove stickers from an inside rear car window?
If you are scared of scratches on your car window while removing stickers then we have a super cool solution for you. WD-40 is such a cool solution for removing strong adhesive residue from the inside rear car window. However, it loosens the stickiness of the glue.
Initially, You need to peel the sticker off as much as you can. You need not worry about the leftover sticky residue. Because WD-40 is ready to take the next. Now a rag will be the next element to avoid scratch. Then spray WD-40 on the rag. Keep in mind that the rag is sufficiently soaked by solvent. The next is to rub that rag on the sticky substance. They may be stubborn but within a few moments, all the residue will be out.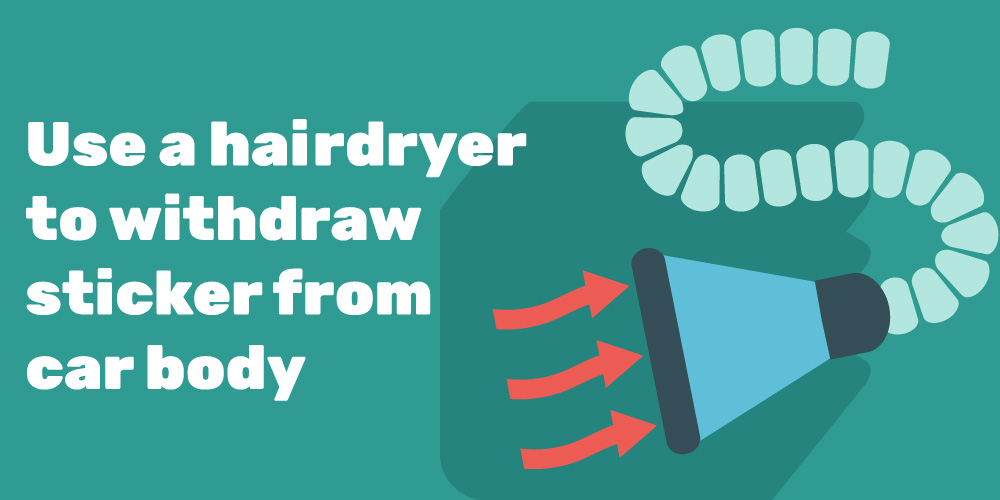 Use a hairdryer to withdraw sticker from car body
Okay, now anyone may ask, "how to remove stickers from the car body?" Well, let's take another cool trick for your loved car. Hairdryer plays an important role in removing the car sticker affixed on the painted body.
First of all, heat the sticker in the middle to reduce its job to be stuck to the body. Make sure you keep your dryer 2-3 inches away from the paint or sticker. Because overheating may spoil the paint. This way, the sticker will try to come up.
Now go to the edge. Heat until it curls up the border. Take a rest and resume the workout. Thus, the sticker will be loosened. Now peel it off slowly.
You are not done yet. Sticky leftovers are there. Use soap and rag to clean the remaining glue. That won't be a hard-to-do task at all.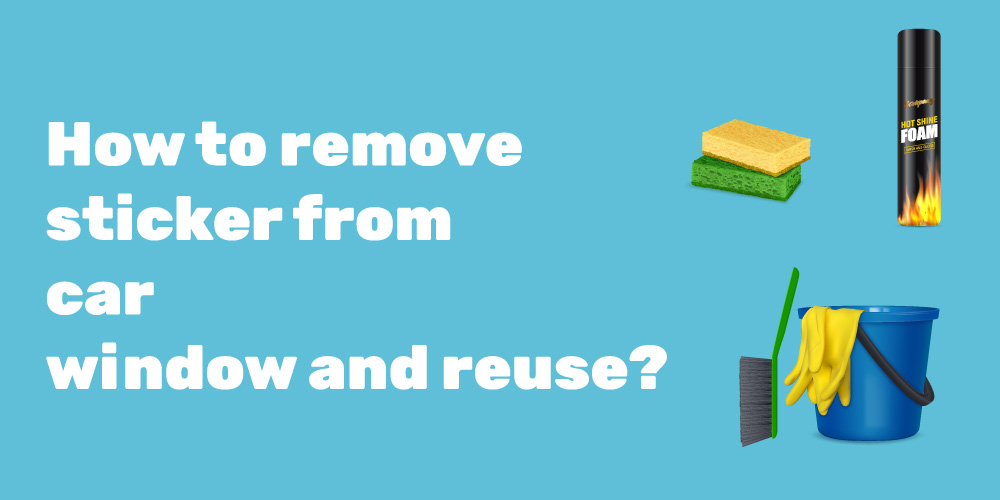 How to remove stickers from the car windows and reuse them?
Stickers on the car windows are planned to be used for two duration, short duration, and long duration. Short time sticker will loosen the gum after a certain period. On the other hand, long-time stickers will prolong until you get them off.
What if you mistakenly place the stickers in the wrong place? Surely, this will be a mess. But some outstanding tips may ease your extra load.
At first, you will have to peel the sticker up with your fingernail. Don't forget to start from one side. Gradually try to operate your nail from every corner. So the sticker doesn't get torn and unbalanced. Do it with patience.
Once you are done, keep it in a safe place for better storage. You can keep it by holding a sheet of stickers. If that is unavailable, you can attach it to plastic.
As this is a secondary use, some gum will be a bit tired. You can use contact adhesive or transfer tape to reactivate the glue.

Check out more:
How to remove stickers from glass with vinegar?
Emm! Vinegar has a lot of uses for different purposes. Needless to say, it works like magic to remove stickers from car windows without damage.
Use vinegar roughly on the surface of the sticker affixed on the car window. So that the entire surface of the sticker gets soaked. Do it for 2-3 minutes. Make sure vinegar is properly applied. Wait for 5 minutes.
Now use a plastic scraper or a sharp razor blade to peel the sticker off. Holding patience, go to the last of the sticker. The sticker will not get off fully. It will leave some residue. But don't lose patience. Once you are done, wipe it up with a rag. Now if anyone asks, "Is it the same with glasses?"
Well, it's the same application.
Conclusion
Car windows are a way of expressing one's own beliefs and interests to others. People find it a communicative tool to find commonality with others. However, this is freedom of expression. Holding a promotional sticker of your supported party will let others know about you.
Everything is nice and fair until you discover your car sticker needs to be changed and you want the stickers off. Now, we want to wrap up this discussion on the process of "remove the sticker from the car window without damage".